Blog
Blog / Rent, travel and enjoy safely. Micab takes you.
Enjoy Mexico City and all its attractions, culture and gastronomy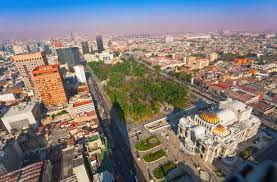 Thursday 6 April 2023 / Micab

Would you like to discover one of the largest, most vibrant and diverse cities in the world? Then you cannot miss the opportunity to visit Mexico City, a metropolis that will surprise you with its historical, cultural and gastronomic wealth.
Mexico City is the heart of the Mexican nation, where pre-Hispanic, colonial and modern traditions merge. Here you can admire impressive monuments, such as the Palace of Fine Arts, the Metropolitan Cathedral, the Templo Mayor and the Chapultepec Castle. You can also explore fascinating museums, such as the National Museum of Anthropology, the Frida Kahlo Museum, the Templo Mayor Museum, and the Soumaya Museum.

Mexico City also offers you a wide variety of cultural and entertainment activities, such as theaters, cinemas, concerts, festivals, exhibitions, and sporting events. You can enjoy the nightlife in its bars, clubs, canteens and cafes. And don't forget to visit its emblematic neighborhoods, such as the Historic Center, Coyoacán, San Ángel and Xochimilco.

But if there is something that will make you fall in love with Mexico City, it is its gastronomy, one of the richest and most varied in the world. Here you can taste from the typical Mexican appetizers, such as tamales, corn, quesadillas and tortas, to the most sophisticated dishes of national and international cuisine. You can savor the tasty chiles en nogada, mole poblano, escamoles, grasshoppers and al pastor tacos. And to sweeten your palate, nothing better than a hot chocolate with churros or a tres leches cake.

Do not think twice and come to discover Mexico City, a city that will captivate you with its magic, its color and its flavor. We assure you that you will not regret it.
Wherever you go, MiCab takes you